Small Business Success Story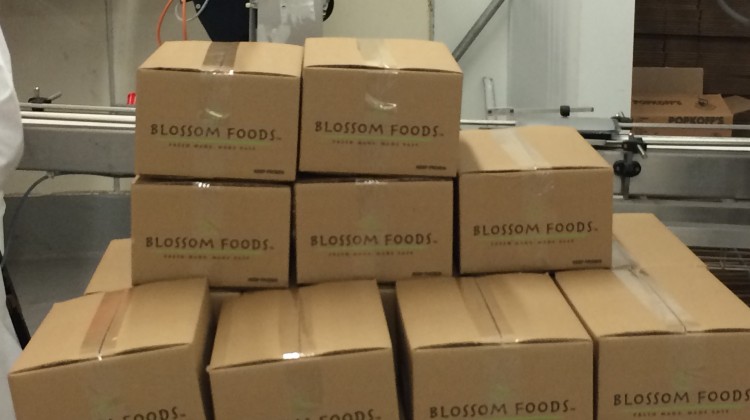 Blossom Foods Blooms With Bank of America.
Sue Adams got the idea to launch Blossom Foods when she worked as a speech pathologist in San Francisco. Many of her patients had a difficult time swallowing food — a condition known as dysphagia — and the worst parts of the day were mealtimes.
Adams recalls how her patients could no longer chew and swallow their favorite meals, and in many cases, their only options were unappealing plates of mush. "Every time you saw a patient who had an issue with swallowing, you saw that they had to downgrade their diet. These balls of beige would show up on their plates, and they would always ask, 'What is this?' because it didn't seem like real food," Adams says. Many of her patients literally couldn't stomach what was on the menu, even though the nutrients were essential to their health.
Adams decided to launch a company that would provide tasty breakfasts, lunches and dinners for people with dysphagia. The condition affects one in seven people, and that figure could increase as the population ages, which suggested she'd have a strong market.
Blossom Foods was born in 2006, and Adams began testing recipes and assembling taste panels. By 2008, she was selling pureed, ground and chopped entrees to local hospitals. "I quit my job, and my former employer was my first client," she says. Today, Blossom Foods sells entrees like turkey, chicken enchiladas and pancakes with eggs.
Financing taste tests
When Blossom Foods first launched, Adams and her husband dipped into their savings to get the business off the ground. She didn't hire her first employee until about three years after they started selling food, she says. Adams hired a chef and also moved into a kitchen that could accommodate USDA inspections. Word got around to local hospitals and her business grew.
With demand increasing, Adams knew that she'd need financing help to get better kitchen equipment. A specialized meat grinder would cost several thousand dollars, and a larger-capacity freezer could cost even more. But Adams predicted that such equipment additions would allow Blossom Foods to increase its business volume up to 300%.
Finding a financial partner
At first, Adams didn't consider applying for financing at her regular institution, Bank of America, even though she and her family had been customers for several years. Her perception was that big banks weren't for small business.
Adams looked first into partnering with angel investors, but couldn't seem to find the right fit. She hoped to get in touch with someone who could partner with her and provide entrepreneurial expertise, but she never met that person, she says. After not finding what she was looking for from other avenues, Adams considered her traditional bank.
It's a smart move for entrepreneurs to check with their home bank to see what opportunities may exist, says Desi Stark, senior vice president for small business at Bank of America in San Francisco. "That's pretty much how our small business banking channel was born," she says. "We started listening to small businesses, and we started hearing people asking for that attention. We ended up hiring experts in the field," she says.
The ideal business owner is someone who starts a business with an intention to grow, somebody ambitious, Stark says. But it can take time for a small business to get a loan from a traditional bank. "There are a lot of regulations that we have to abide by," Stark says. "We look at how the business shows profitability. We look at tax returns and revenue, and we also look at future projects and business forecasts. We have to understand the whole story. It's not just the numbers."
Even after financing is secured, it's important to continue the banking relationship, Stark says. "It's not just about funding. Business owners also need to know how to maximize their dollar, and how they can make their business grow," she says. "Bankers can go into the field, sit down and have a conversation about how you run your business and ask what you need."
After meeting with Bank of America, Adams opened a business credit card account with a $35,000 credit line. She says it gives her the flexibility to purchase kitchen equipment and expand her operations. Today, Blossom Foods serves close to 80 hospitals, medical offices and rehabilitation centers. "We've been profitable the past three years, and we're growing," Adams says. She has plans to continue to grow and serve medical centers across the country.
Tips for small business owners
Before you seek outside funding, invest your own money in your business, Adams says. Even after Blossom Foods became profitable, Adams says she reinvested her money in her business for several years instead of buying fancy cars or taking exotic vacations. "When you self-fund your business, you do need to be willing to make the tough choices about what you want to do with your company," she says.
It's also important to stay on top of advancements in your industry. Adams keeps her speech pathology credentials current, which she says helps her understand patient-related issues and puts her in a better position to respond to medical changes or breakthroughs that affect her clients.
When you are ready to seek financing, make an effort to develop a relationship with your local banker, Stark says. With a relationship, you get advice and you get someone who can talk to you and help you know the right questions to ask, as well as how to answer them, she says. "Sometimes it's not just numbers. We also want to understand what you're thinking. Do you want to open just one store, or do you have expansion plans?" Stark says.
When you have an existing business relationship with your bank, it can be very helpful when it comes time to apply for future financing, including lines of credit and business loans. Blossom Foods is one such company that has taken the first step in what could be a long and prosperous relationship.
by Margarette Burnette
April 22, 2015
NerdWallet.com
Published: 05/12/2015 8:05 AM