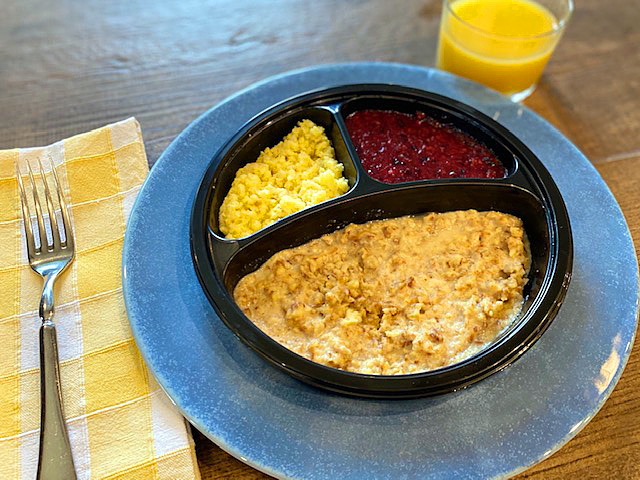 Unsolicited testimonials from fans of Blossom Foods... plenty more where these came from!
This has truly been the best experience for our family since my mom's stroke. The ease and wonderful taste of your food has left us all at ease! Your customer service and the amount of questions you answered made us feel like we weren't the only ones with this issue. Thank you all so much.
 
Just wanted you to know that my mom loves your pureed foods! At first she said she didn't want to try them, she was done eating. As we transitioned her off meals and onto snacks throughout the day she was willing to try the Blossom Foods and ending up loving many of them. She is willingly eating them and enjoying them.
 
Thank you so much for providing a wonderful product for those in need of it. As a caregiver I have enough to do without pureeing food. Your products save a lot of time and give us the chance to continue to serve our loved ones good food.
 
THANK YOU FOR WHAT YOU ARE DOING. IT HAS BEEN A HARD TIME FOR MY MOM TO EAT SOFT FOOD. SHE LIKES HAVING HER INDEPENDENCE TO CHOOSE THE FOOD AND WHEN SHE EATS. THE PORTION SIZES ARE PERFECT FOR HER. IT'S BEEN VERY HELPFUL.
 
I didn't think I'd eat pureed food until I was good and old, but my surgery changed that. I found Blossom''s food to be not only exactly what I needed, but also delicious!
 
Why can't we buy this in the supermarket? I can't believe I can shop for 50 cereal boxes and 30 power drinks but can't find pureed meals. Can you help us out. Your food is delicious and I recommend it all the time.. Keep up the good work you do and the great customer service. Lucy has been wonderful to work with.
 
Searching the web for information about swallowing for my dad and up "popped" your website. I don't know if it was fate or what, but this has been a god send for my family. What could have been a disaster, 86 and being put on a pureed diet, has been easy. Our dad loves the food and ability to choose his meals. Thank you so much.
 
I ordered your meals after reading the many great testimonials. Although I did wonder if they were "real," we ordered a variety for my mom to try who is a real foodie. Well, true to the reviews, your meals are not only delicious, but true to color and texture. We now have our family at the table again together and thank you so much!
 
Delicious, easy to prepare food in the exact texture she can eat!
 
I have ordered from your web site. My mom has enjoyed your foods and likes the serving size that they are. Thank you so much for responding in such a timely manner. I'm sure we will order more in the near future.
 
With Blossom's products, my mother enjoys her meals and appreciates the ability to microwave the food when she wants it.
 
Sue Sue Sue! The food is Wonderful! Isabella loves it! I could not believe how much she ate! Yesterday I fed her the chicken enchilada and she ate almost half and then I resumed last night with the rest of it! She never opens her mouth for more unless she really likes it and she has done that 3 times with Blossom Foods! This morning I'm feeding her the roast carrots and she is eagerly eating her veggies :oI want to give a HUGE, no Giagantic, thank you for turning me on to this company and your generous assistance and foods.Very grateful,
 
The Blossom Foods folks have been great to us over the years since we first started ordering (sometime in early 2012), and you deserve thanks for the good work you do. Health issues are difficult, but having access to your delicious and easy to prepare products made the process just a bit easier.Thank you very much and the best to your Blossom Tea!
 
Dear Blossom Foods, Your pureed foods are tasty, and a "life saver" for me. My husband enjoys the selections. Much appreciation
 
With Blossom Foods I was able to provide my mom with complete meals that are both soft in texture and delicious. I find my father sharing the meals!
 
Blossom Foods has shown us that ground food can taste delicious.
 
My family and I appreciate what you do for the public. You care about what we eat on a daily basis. Thank you for providing great tastes and ingredients. Keep up the great work and thank you.
 
Hello Blossom, thank you very much. As I have said before, your store has saved my life in terms of helping to feed my father. :)
 
Thank you! I don't know what we would do without your company!!
 
This has been such a savior to us. What you do is critical to those that need to eat pureed food and not be insulted. Thank you so much. I am going to share your information with my husband's doctors.
 
Thank you for delicious, wholesome foods for my mother. I also can't say enough about your excellent customer service. You were there in the clutch for us more than a year ago when we set up Mom's care plan, we credit Blossom Foods with helping to support her recovery, and you continue to provide us with convenient meals.
 
Can you please open up offices on the East Coast! We have enjoyed the your products so much and wish I could just go in and purchase them all! Delicious. Your meals are great.
 
Amazing. Thank you for the service you provide. I mean it. This has been one of the easiest things to tackle since my dad became sick. At first, we thought where in the world do we get pureed food? And there was Blossom Foods and your great customer service. It was nice to speak with Sue Adams who was so helpful, caring, and informative. We have since returned to a regular diet but if there were ever anything our family could do to help Blossom, we would!
 
I have gone through 3 blenders and a food processor and nothing worked. Your food has truly been a gift for my mother. Thank you so much for what you do!
 
Thank you. Opening a can of pureed food felt like I was feeding my pet. We really appreciate that the food not only looks and smells good, it tastes great. It is also wonderful that it is obviously prepared by hand. What a welcome product that everyone should know about.
 
Wow, I admit I didn't really believe all the hype that your food, pureed, could be as great as everyone said. I take it back. The food tastes exactly like it should, it's delicious. I want to comment on the colors, amazing that the usual "gray haze" I found my mom eating is now replaced by a rich color selection of real food. I too say thank you and you'll be hearing from us again.
 
I thought with my throat cancer I would be back to eating baby food and not looking forward to any of it. Thank you for making this battle a bit easier and much more tasty.
 
"It was like the Heaven's opened up! My mother is back to enjoying her meals!"
 
Thank you for the continued follow-up. Your customer service has been wonderful in helping us understand pureed food, what we can do ourselves to keep cost and ease at a minimum, and planning meals for our parents. We wish there was more we could say except thank you and your food is delicious and a real blessing to our family.
 
Hi Sue, Thank you very much for the sampler. My mother enjoyed every item especially the roasted beets and chili. I'll be sure to include some of your new offering in my next order. Have a great day!
 
Mother loves the food and we do not know what we would do without Blossom. Have a fabulous day!
 
I can't tell you how much I appreciate your products. It is so difficult to create the puréed food with decent taste and texture...it is SO easy to use your food and I can't believe how tasty it is! Your orders are so quick from order to doorstep! Unbelievable! I just have to thank you. This has helped me care for my mother in law. Thank you. Thank you.
 
Just wanted to thank Susan for following up on our last order and providing good customer service. Mom is enjoying the variety of food you have sent. I wish I had found out about you earlier. Thanks again!
 
What a blessing to have your company. I can order for my dad and have it delivered to his door to help my mom as well. Thank you so much.
 
Thank you again. I mean it. Blossom Foods has been a godsend to not only my siblings and myself, but our parents who we send it to. They enjoy the flavors, the independence, the ease of preparing their meals. My mom now calls to tell me what she is eating, as if she's made the meal...we let her talk. It's back to happy times and when they visit, the small black containers are there too, full of their favorite meals they can enjoy with us. Wonderful service and great customer care.
 
I really hope you know how many lives you save. Thank you.
 
Our patients love your food and we are happy to refer Blossom Foods to those that need it. This has really given a lot back to our patients and your goal of dignity with dining is very well said. Thank you to your staff.
 
I don't know if it's a good thing, but my mother now will only eat Blossom Foods. She loves it, makes her own meal choices, and has become rather an "expert" on preparing and mixing them to create her "gourmet" dining experience. You are doing something very right, and addictive, at Blossom Foods.
 
Thank you, thank you, thank you. My father has to be on a pureed food diet for six weeks and he loves the taste of your food. What a life saver! Thanks again,
 
I love your foods!
 
Hi Sue Your food is just great! My wife likes it very much. It actually still tastes like food even after processing and freezing. So this has been a real plus for us. She has cut her feeding time in half. She tried many other foods, even the best brands, and she did not care for them at all. Thanks so much! Blessings
 
I was able to sample your products at the ASHA convention and brought my entire staff after my initial taste. Although they were reluctant, they tasted what I did, delicious food that was pureed. What a great discovery for our patients.
 
Our staff continues to comment on the consistent texture and quality Blossom Foods provides our patients. We receive many compliments on the varied menu and taste your menu items have. Just wanted to let you know. Thank you.
 
I was able to sample your products at the ASHA convention and brought my entire staff after my initial taste. Although they were reluctant, they tasted what I did, delicious food that was pureed. What a great discovery for our patients.
 
What a great service to our discharging patients to receive Blossom Foods brochures for home ordering. We have received many thank you's and are so happy to offer this service to our valued patients. Thank you!
 
Hello, I am a recent customer with elderly parents that don't eat much, so very often it is beneficial to give high calorie foods. Ex: those with heavy cream, extra butter etc. Is there a chance that this can be offered for those who also need a big calorie boost. God Bless you and your company, it has helped to rid alot of anxiety and frustration at mealtimes
 
Wanted to thank you for great pureed food,and great service. I have esophageal dysphagia,and you provide an absolutely wonderful service. Thanks again
 
We have been purchasing your foods for a couple of months now and my 5 year old daughter who has cerebral palsy really enjoys the flavors that you have. It is so helpful to find such a company that makes puréed foods. Keep up the good work. :)
 
Your puréed foods have made a world of difference in his desire to eat. We are so happy he is eating again thanks to your meals! He ate a whole pot roast in one sitting Friday afternoon and some creamed spinach. Saturday he ate half a BBQ beef with some broccoli and Sunday was a whole chicken pot pie with more broccoli. He enjoyed the apple pie with lactaid ice cream on two evenings. Your foods have made a great impact for my mom and our entire family. Thank you.
 
Thank you. My father really enjoyed your food and I enjoyed receiving it for him. We really appreciate the time and quality you put into all your food for the ones that need it.
 
We are so pleased to be able to offer your meals to our patients who are discharged. They enjoy your meals during their stay and report the customer service from your company helps make the transition home much easier. Thank you!
 
Mom is eating. And all is good with the world again. Thanks!!
 
Blossom Foods has given me back the enjoyment of eating, I'm back to eating 3 meals a day and regaining some of the lost weight.
 
Thank you for your great food. This is the first time that my father has shown any interest in food. He can actually taste all the flavor in your food. He raved about your product so much that one of the visitors from San Diego Hospice asked for the name of your company to pass along. Thank you for making a difficult time much easier.
 
Thank you, thank you, thank you. Your items are delicious, but I will tell you the elimination of food prep for my father has been a god-send. I now know, 800 miles away, that my mother and father are back to enjoying meals, thanks to the "meals in minutes" provided by Blossom Foods.
 
All of the Blossom Foods we have tried taste great and good texture. Mom eats these products very well. Nothing she does not like. These foods add to her quality of life & mine. Thanks Gary