Blossom Food's Response to COVID-19 & Noteworthy Developments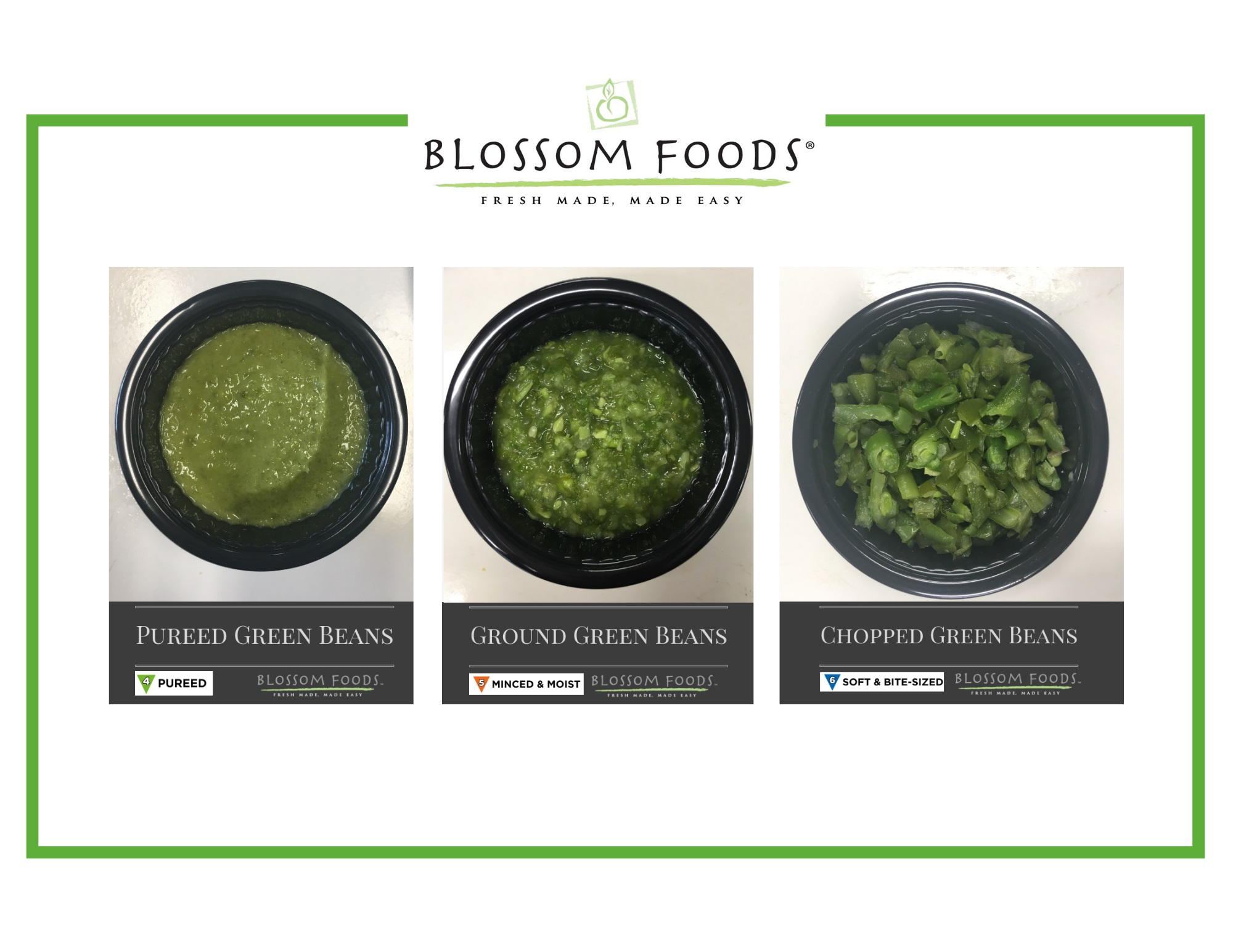 Hello All!
Blossom Foods has had quite a few new developments since the last time we touched base and is excited to share our evolving role with the IDDSI conversation, our increase in production, new menu items, and how our staff is responding and adapting its business to COVID-19.
Our Response to COVID-19
As a USDA inspected-certified kitchen, we are fortunate to have a USDA Inspector in our building each and every day. Our HACCP program dictates strict cleaning protocols before, during, and after production to ensure our kitchen, equipment, warehouse, and employees follow strict codes of compliance. This includes the use of industrial, food grade disinfectants, gloves with excessive hand washing in between the switching of gloves for various tasks, changing of smocks, use of hairnets and face covers. Employees are held to strict physical health standards also included in our HACCP plan. We take what we do very seriously for the protection of those we serve.
You can be assured we are doing everything we can to ensure the safety of those most important to us and to you, the patient/consumer. If you have any questions or concerns, please do not hesitate to contact us.
We have increased our production of our products as well. Using disposable, recyclable plates, we have begun to increase our inventory to accommodate the needs of the healthcare industry. We have found many facilities using the Level 6 – Soft Chop texture for a regular diet given the limited staffing, need to get the patient their meals without manipulating any of the food on the plate. Please feel free to reach out with any additional questions or suggestions.
The IDDSI Diet
Since 2008, Blossom Foods has created menu items in Puree, Ground, and Soft Chop textures following the National Dysphagia Diet guidelines. As you may know, in 2017 Blossom Foods continues to offer these textures on its menu with the International Dysphagia Diet Standardization Initiative (IDDSI) and modified our textures to the following:
Level 4 –Pureed
Level 5 – Minced & Moist
Level 6 – Soft Chop
Level 7 – Regular & Renal Diet
We are proud to be members of the IDDSI conversation and provide healthcare facilities and consumers with the knowledge to understand the IDDSI diet level guideline goal to standardize textured meals. We offer our menu items in 3 compartment divided, round plates as well as a la carte in individual servings. Our items can be steamed, microwaved and/or re-thermed.
Internet – Direct To Consumer
We continue to work on getting our online ordering and packaging ready to ship direct once again. We believe we are extremely close to offering the meals direct to homes for those that need it. Please check back in the coming weeks.
We wish all of you well and want you to know that we are still here, doing our best to keep up with demand and prepare delicious meals in soft textures. Sue
Published: 03/23/2020 11:07 AM