Blossom Foods Welcomes 2021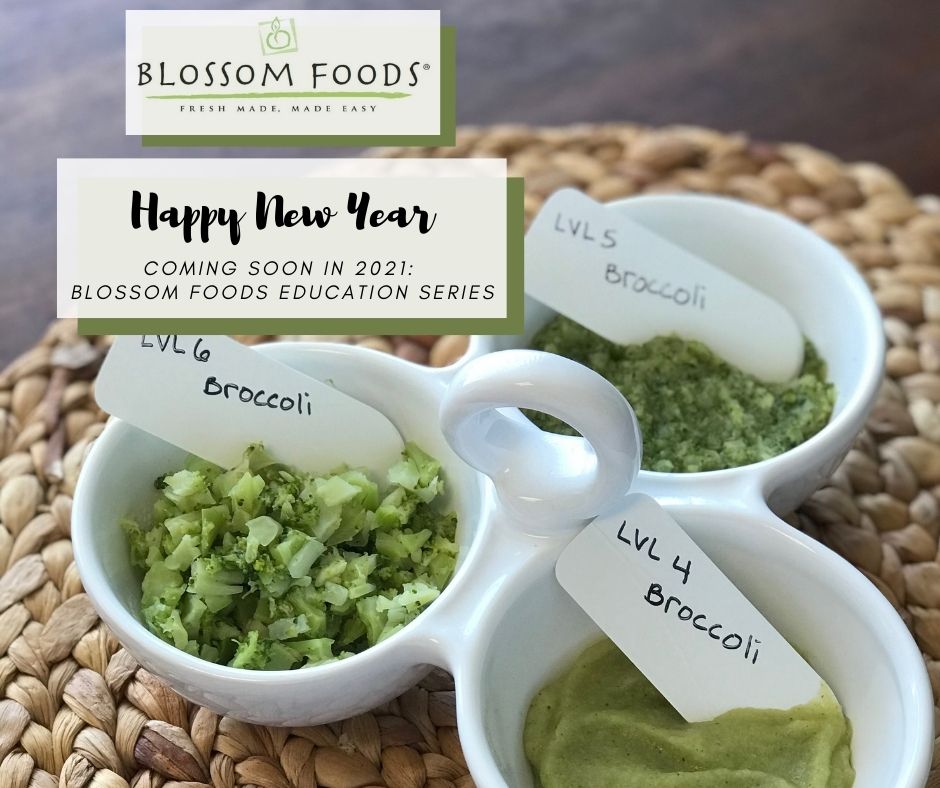 Well, we may be about a month late but as the saying goes, "Better late than never!" We've been pretty delayed in general on updating our customers so we hope to start today.
Our response to COVID has been as successful as it could be. With our additional sanitizing stations and space requirements, we have been fully operational. 2020 saw a great year for our team and company in terms of growth and commitment. We are extremely grateful that each of our team members have embraced the new standards in the midst of this awful pandemic and that our rapid growth has been sustainable.
Direct to Consumer is still on the table however with the home delivery companies at capacity, we have found that our overnight or 2 day service inconsistent and with frozen meals, this is not what we are able to commit to. We are working with a box designer to increase the length of time to deliver without the use of Styrofoam. Not an easy, or inexpensive, feat. We will continue to try and get our DTC program back.
Our partnerships with Healthcare continues to thrive. With increased distribution nationally, we have delivered our products, US Foods and Sysco, to the most respected Healthcare Facilities in the nation. We saw the addition of 11 menu items in each of the three textures we provide: Level 4 - Pureed, Level 5 - Minced & Moist, and Level 6 - Bite Size/Soft Chop. We've developed a Regular Texture - Level 7 - Renal menu that now offers 8 different 3 compartment meals. Our menu count in the Level 4, 5, and 6 surpasses sixty items that include regional, seasonal, and holiday. A lot of work we're proud of.
Blossom Foods focus for 2021 will be on education! We have created an "EAT" team (Education Advancement Team) for the sole purpose of creating educational materials for both the individual and institution. This will include everything from: Nutritional Information for the dysphagia patient, texture specifications, causes of swallowing disorders, etc. As we get to "play" with food everyday, we find both the humor and seriousness in the textures of our foods. Pureed is Pureed - you can shape it but stir it up, it's still Pureed. Taste, now that's serious! We are horrified when we hear the word "mush" to describe the textures. Some other good ones are: cat food, blenderized, mashed, garbage disposal. Presenting to a patient their meal with any of these terms or the, "gee, I don't know what that is" rather than "this smells so good and the taste is too!" will help the patient to eat and not feel at the end of their meal enjoyment days. The number of times we have tasted with the initial reaction of, "oh, no thank you" to, "oh, this is delicious" should be captured and played on TikTok...not a bad idea!
Our commitment is to continue to eliminate, not reduce, the stigma of a textured diet.
We look forward to the day we can get back out and schedule tastings and meet personally. Please let us know if you'd like samples sent or any additional information. We're looking forward to 2021! We would be happy to answer or discuss our menu items as well. Stay safe and be well.

Enjoy, Sue
(dedicated to my mom, Lu-pictured throughout our website. ilym)

Published: 01/26/2021 9:05 AM