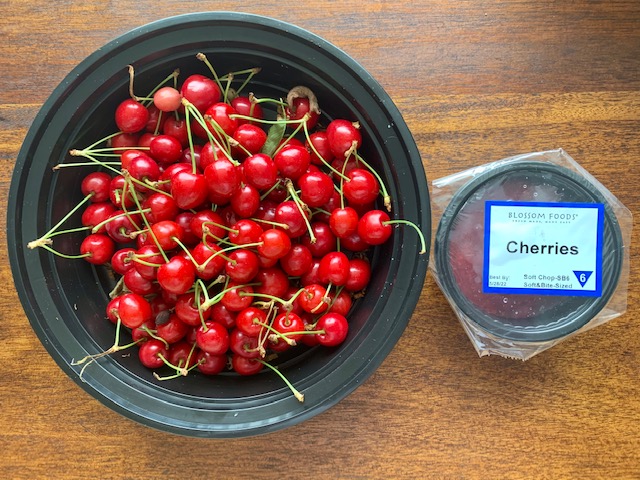 I am now in full understanding of the incredible frustration our customers feel at not being able to easily obtain their meals when they are on a Pureed, IDDSI Level 4, diet.
Last week my mother-in-law fell, fractured and broke her jaw requiring surgery. She spent several days at Cedars Sinai receiving exceptional care, being placed on a Pureed, Level 4, diet and finding the food delicious and easy to eat. This was not only humbling for Blossom Foods but for myself. It's a tremendous blessing that she knows the owner of that company, Blossom Foods, as I was able to bring meals with me when spending the week helping her re-adjust to meal prep, being home. I did spend a tremendous amount of time at Whole Foods, Pavilions, Ralph's, and Trader Joes in search of items she would be able to easily put into her mealtimes only to come up basically empty handed or perusing the children's fruit and misc. pouches. Meeting with our team this week, we are now hoping to bring back direct to consumer in the fall, as well as discuss retail options. If you have input, would love to hear it.
Summertime! It's really heating up here and along the entire West Coast!
We continue to test our products for IDDSI compliance as we develop and try a few new recipes. Our testing and tasting involves 8 members of our staff, 11 different forks, and 3 sizes of spoons to see if there are differences in compliance. Today's testing included the Cherries, Chicken Enchilada, and Pepper Beef, as well as Barbecue Pork Ribs.
All very good in each texture.
We also packaged and are testing a new white fiber, recyclable and sustainable, plate. We will share the results of this study when complete. It's looking hopeful and the food colors look great against the white.
Please feel free to reach out with any questions or suggestions! Enjoy, Sue
Published: 06/22/2021 12:05 PM